August 29, 2019 | News | No Comments
We've probably all attempted a mad dash past closing train doors at MRT stations.
In a video clip that has surfaced on Facebook on Wednesday (Aug 28), two female passengers could be seen running into a train about to depart Little India station.
One of them made it, but the doors closed before the second woman could enter.
Even with the doors slammed shut, she tried to muscle her way into the train carriage.
While the passenger succeeded in prying the platform screen doors open with her bare hands, the train doors proved to be too difficult for her to overcome.
The woman then became trapped between the two sets of doors.
Realising that she was in trouble, a train station staff member and several train passengers rushed to the doors to try and free her.
Moments later, she squeezed herself into the carriage as the train doors let up.
The incident appeared to have interfered with the door alignment, as both sets of doors opened for a second time.
A crowd then gathered near the doors to check out the commotion as the train stalled for about a minute.
After viewing the clip, Facebook users were quick to criticise the woman's actions which could have endangered her own life and caused trouble for others.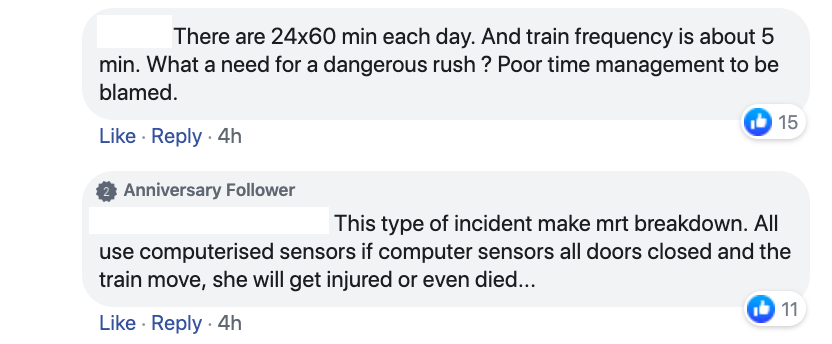 She may have been lucky enough to have escaped unscathed, but her attempt to catch the departing train caused a delay in everyone's journey.
Ms Tammy Tan, senior vice president of corporate communications at SBS Transit told AsiaOne that the incident took place at Downtown Line's Little India station on Monday (Aug 26) at 3.30pm.
"The passenger used her hands to block the platform screen doors from closing fully. As a result, they started to retract as the system detected the obstruction."
"As the commuter attempted to squeeze through the closed train doors, a staff onboard activated an emergency device which enabled the train doors to reopen fully so that the passenger could enter the train."
The entire episode happened in a span of 20 seconds.
Ms Tan added, "For safety reasons, commuters must not attempt such actions. This is extremely dangerous and could result in serious injury. It could also result in a service disruption as well as cause damage to public property."
doors, trapped, Woman